When you get invitations per mail to your ticket system, those invitations do not show up in the system. They are handled as "normal" attachments. So you might miss some appointments.
After installing the *IcalInfos* addon, the invitations are shown in the ticket zoom on the right side: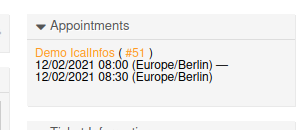 In this widget, you can click on the article id to get to the article that has the invitation attached.
You can click on the invitation summary to get an extra dialog where all the details are shown: