Attention, new Version: 3.3.6 with new feature Feature
With TicketAttachment, you have the attachments of your tickets under better control: Another widget, in which all ticket attachments are listed, is displayed in the ticket view – no annoying searching in individual articles.
Attachment displayed in the ticket view
Furthermore, it is possible to search for ticket attachments with file names...
Results of attachment search
... and while replying and forwarding tickets, you can access attachments of the ticket faster. With only one click, you have attached an attachment from a different article of the ticket to your reply.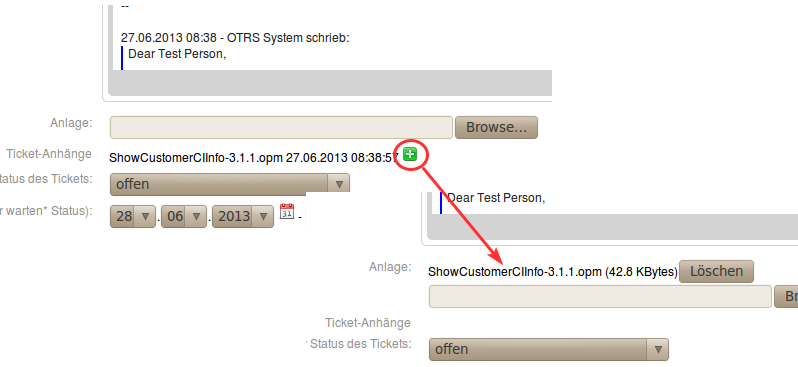 Fast reusage of ticket attachments
This module also works with installed additional modules as long as the basic structure of AgentTicketZoom survived. We will check if the module is applicable to you (the module works problem-free with installed OTRS-ITSM-packets).
The possibility of deleting attachments with Cronjob/ GenericAgent was added in version 3.3.6. You can delete all attachments of a ticket with GenericAgent. You can use the known ticket filters, deleting, for example, attachments of all tickets which are in a Queue Misc or which have been completed for over a year.
With the new attachment jobs, you can filter attachments you want to delete even more precisely. It is now possible, for example, to delete all files from a certain size. This can be limited to tickets of a certain queue or with a certain status.
Short function overview:
additional widget in the ticket view with a list of all attachments
possibility of downloading all attachments of a ticket or grouped by article
renaming and/or deleting attachments
searching for attachments
own "action"-plugins to extend the list
attachments can be quickly and easily reused for forwarding and replying
hiding files in a list (global by file name)
creating cronjobs to delete files (files you want to delete can be filtered by size, file name extension, ticket status, etc.)
optional hiding of double entries (based on file name and size)
fast and easy usage of attachments for new tickets
additional parameter for ticket search: "ticket has attachments"
optional deleting of double entries (based on file name and size)
various ticket searches: "tickets with same attachments", "tickets with certain file", ...
Documentation: PDF