In OTRS, tickets can be linked to other tickets or to FAQ entries, ConfigItems, etc. Some customers link tickets very intensly with each other and this results in long and confusing lists of linked objects in the ticket view. We extend this overview with LinkDataTableEnhanced by a few features. We also backported a further advancement of ((OTRS)) Community Edition– configurable columns.
Let us start small: The columns can be sorted now. This also works with the [community version of the module](https://opar.perl-services.de/dist/LinkDataTableEnhanced).The overview becomes a lot clearer. After that, we enabled actions for linked tickets. Linked tickets can be printed as a list in which the configured columns are shown.

Furthermore, collectiv changes can be made to linked tickets. Simply choose the tickets you want to change via the checkboxes, click on "collectiv change" and then, for example, add a note or change the status.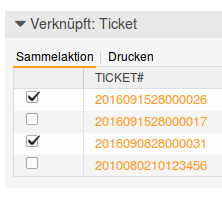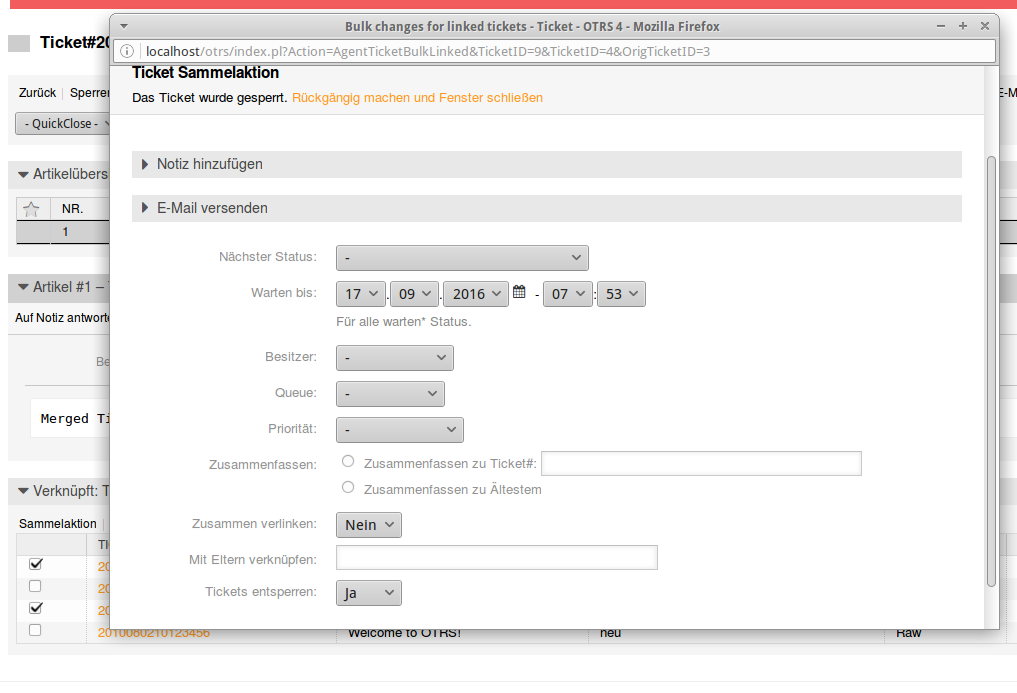 While talking about adding new notes to linked tickets, please note [QuickClose](https://opar.perl-services.de/dist/QuickClose). With this module, you can add new notes to tickets via the ticket view or the various dashboards (view by queue, view by status, ...), close with a standard justification, move into a different queue and a lot more.
With LinkDataTableEnhanced, the integration of QuickClose into linked tickets is possible. If QuickClose is installed, the integration can be simply activated via SysConfig. Short note: If the newest version of QuickClose is not installed, it might not work properly.
There are one or more dropdowns for the QuickCloses:

The fourth action of the current version of LinkDataTableEnhanced is quick links, enabling selected tickets to be quickly linked to prefiltered tickets. With the search filters in SysConfig, you can decide which tickets should be shown in the dialogue for quick linking. Simply select tickets in the overview of linked tickets, click on quick links, select the tickets they should be linked to and send.

The overview of the linked objects now looks like this: